A couldn't agree more with you regarding this atrocity, the logging companies are over-confident and do as they please, thinking they are safe because of the remoteness of their operations and lack of resistance from the indigenous people. It's a shame no help is offered!
Mungai and the Goa Constrictor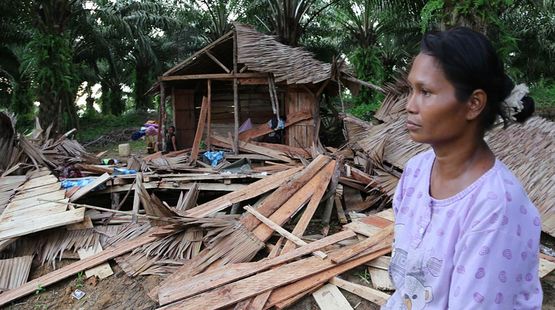 This horrendous story is currently being circulated by Rainforest Rescue. The actions of these palm oil companies are totally unacceptable, and unless something is done soon, the indigenous peoples will have nothing left at all, and the rest of the world can kiss goodbye to the irreplaceable Indonesian rainforests. They cannot, however, stand up to these insatiable corporations alone. They need help – lots of help.
"On the morning of December 11, I heard men rattling my door," said Basron, a 41-year-old resident of the Pinang Tinggi settlement. He then found himself confronted by an armed troop of soldiers, police officers, staff of the PT Asiatic Persada palm oil company and hired thugs.
"These houses are all slated for eviction and demolition today," one of the men said. A little later, Basron watched as a bulldozer reduced his hut to splinters. In Jambi Province in Sumatra, a total of 1,500 men…
View original post 258 more words